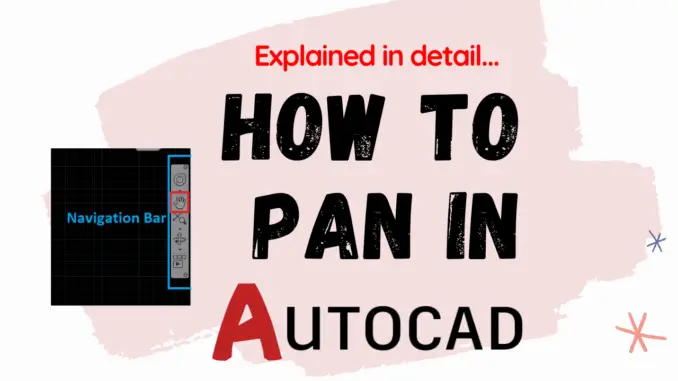 How to pan in AutoCAD | How to pan in AutoCAD with touchpad | A to Z info. only At www.autocadprojects.com
How to pan in AutoCAD?
It is necessary to know how to Pan and zoom in AutoCAD. In this article, we will know about it. We can Pan in AutoCAD in two ways.
1) By "Navigation bar":
The navigation bar is available on the workspace screen on the right side.
You can see Pan Button in this bar.
Just click on it and you can pan by holding the left click.
2) If the navigation bar is not available then
Go to the "View" tab and just click on the "Navigation Bar" in the 'Viewport tools' panel.
The Pan command is available in the Navigation bar.
By using the Pan command, we can pan in AutoCAD.
What is Pan in AutoCAD?
By mouse: (How to pan in AutoCAD)
We can Pan by Holding down the scroll wheel (Middle button) as you move the mouse. This is the common and simple method of Panning.
If it is not working, then do these two things:
A) Checkout mouse settings on pc or laptop
Go to the control panel and double-click the Mouse icon to open the Mouse Properties dialog window.
Click on the 'Buttons' tab.
Open the Wheel button drop-down list, and select AutoScroll.
At last, click on OK.
B) Change the setting in AutoCAD:
Type "MBUTTONPAN" in the command and press Enter."
Then give the system variable is set to 1.
What is the difference between Panning and Zooming?
Zooming provides an option for the user to change the view of a drawing from very near or from afar. It is applicable in two ways  Zooming in and Zooming out. By using zooming in, we can see the drawing very closely. And by using zooming out, we can see the whole drawing.
Panning is another way of looking at the drawing. Panning refers to the horizontal movement of the lens whereas tilting describes vertical movement. 
How do I pan without a mouse?
We can Pan without a mouse (i.e. with a touchpad) this way: Alt+click=middle click and Alt+drag=middle button drag (pan).
Thank you for reading.
You can Read our Other Articles